MAY SQUARE.
MORE THAN 200 OF HISTORY.
May Square is a neuralgic area of our history, of our past, present and undoubtedly, will be of our future. It is the oldest square in Buenos Aires. In its nearby lands, where the Casa Rosada is today, there was a fort, of great dimensions, which protected the Spaniards from the ferocious attacks of the aborigines. From there, you could also see clearly the boats and ships that sailed to the Rio de la Plata. The square for me is the symbol of everything, our colonial era, English invasions, our raising nation, Unitarians and Federals, Radicals and Peronists and bloody wars, but also of words so antagonistic as Dictatorship and Democracy. This is undoubtedly a place full of life and incessant history. Symbolizing it with just one historical event is like name a tiger for a single spot. We would remain in the nonsense of a comparison so short-sighted, so biased, that it would lose all  of its magic.
Its physical transformations throughout the time are notorious, the square was only one, without trees, without walks, without flowers, or nor monuments to remember.
May Square was named like that in 1884, it was created thanks to the union of two squares that were the old squares of Victory and Fort. Between them crossed an Old Recova.
Plaza de Mayo also divides, the neighborhoods of the north and the neighborhoods of the south. From all corners of the city the subways arrive to this central point.
Is is an ideal place to begin any tour. If you walk along Defensa Street we can find the neighborhoods of Montserrat, San Telmo and beyond, Barracas and La Boca. This are the oldest neighborhoods, full of colonial life and Spanish architecture. And if you come back near the coast you can find Puerto Madero and its huge skyscrapers full of modernism and neatness. However, if we decide to take Florida Street in a northerly direction we will be able to enjoy the neighborhoods of San Nicolas, Retiro, Recoleta, Palermo and many others. In this areas, palaces and buildings of French architecture predominate. We can go back to 1900 and dream of what we lost: a wonderful and powerful country, full of money and gold, but also with those things that we must not forget: those vast social inequalities.
Because of this and many other reasons we can not skip Plaza de Mayo in any of our tours. Many stories hide behind every building we see around the square. I invite you to travel with us and discover many more things.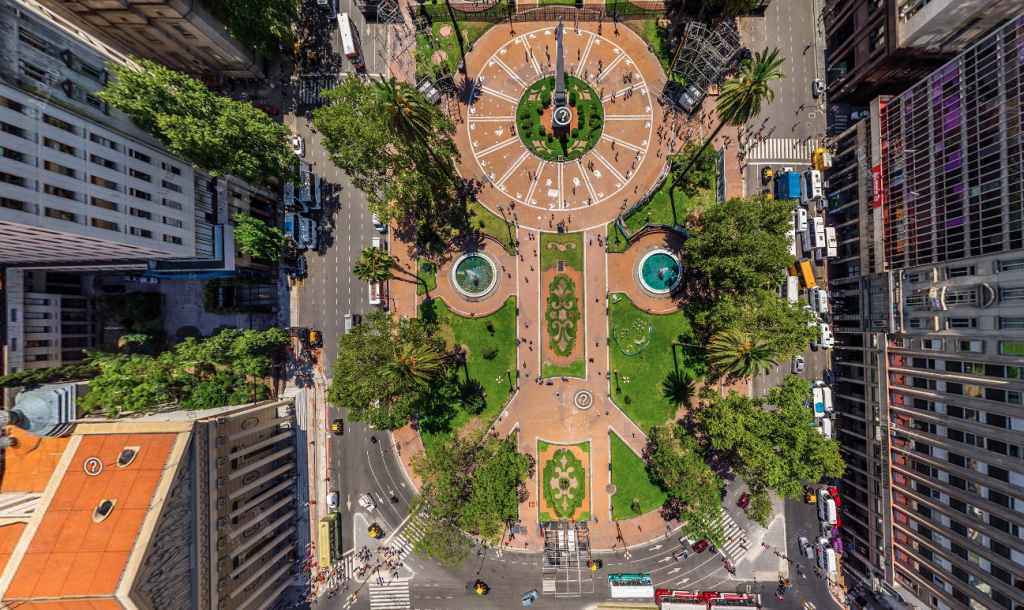 If you want to see much more panoramics pictures of Buenos Aires you can do it here,
http://www.airpano.com/360Degree-VirtualTour.php?3D=Buenos-Aires-2